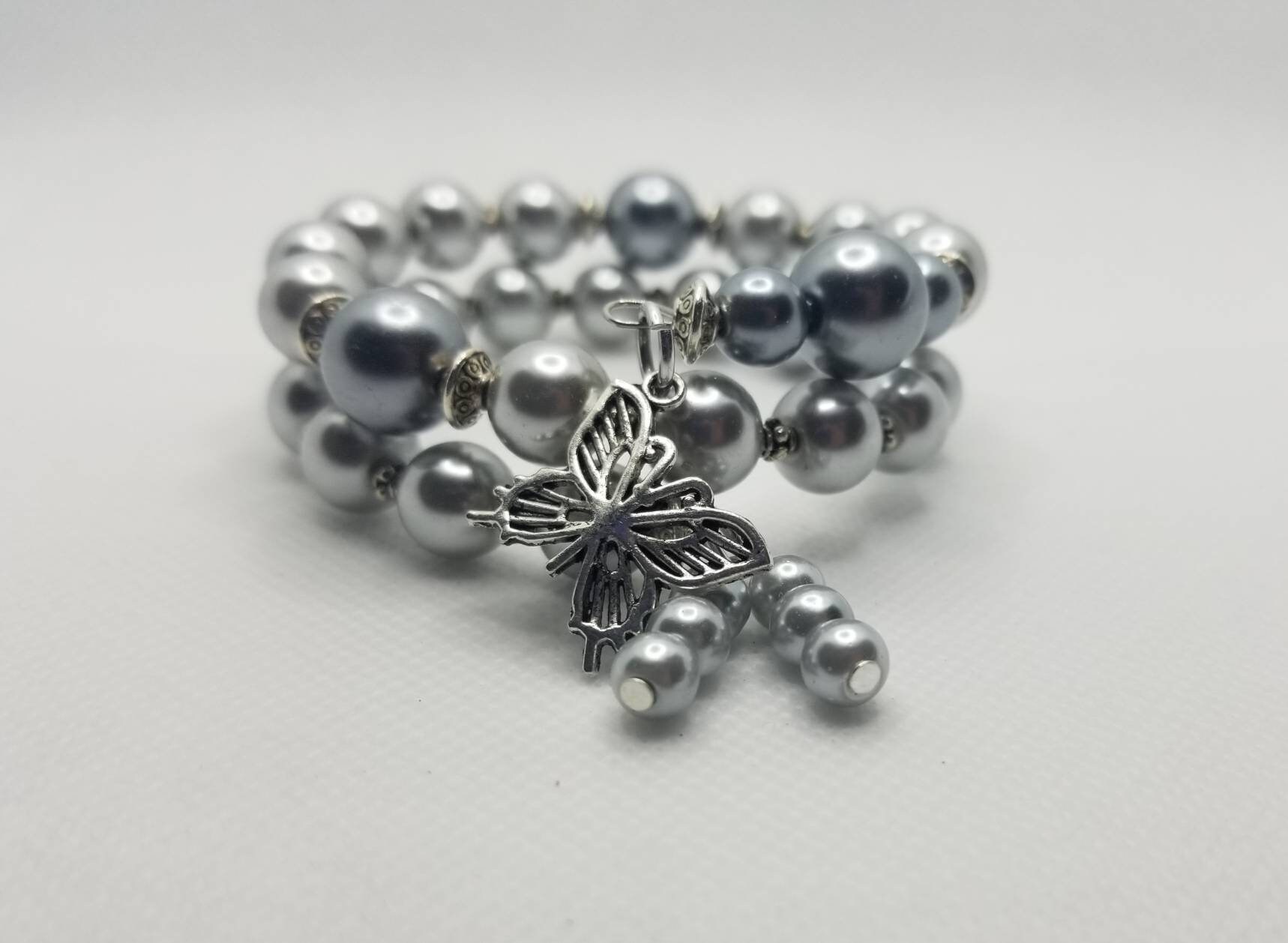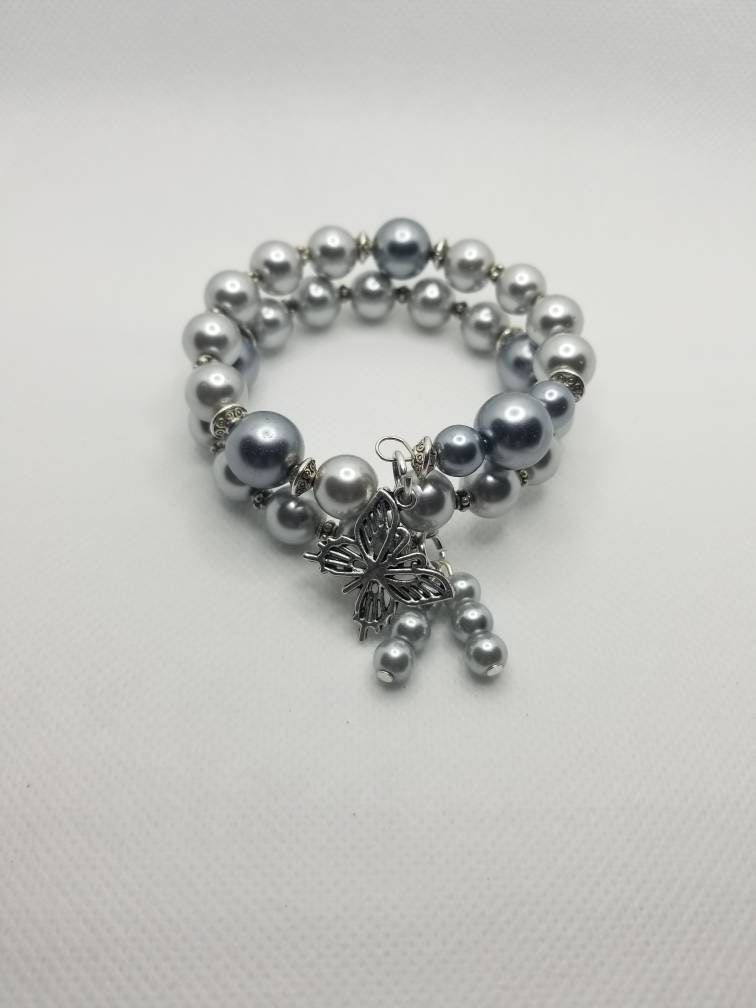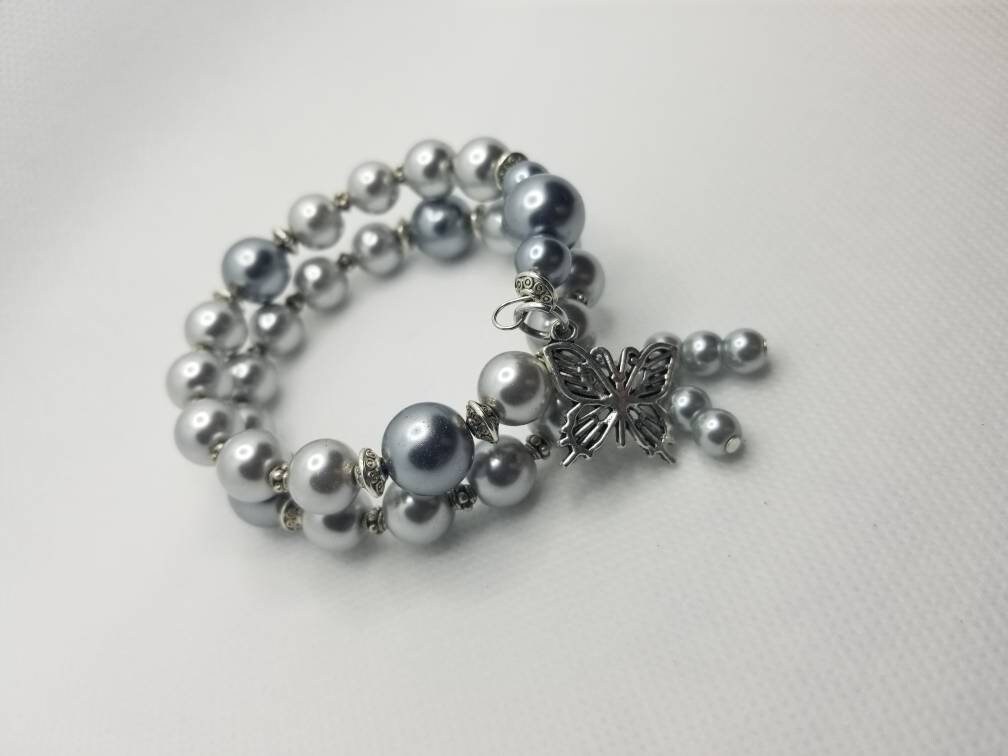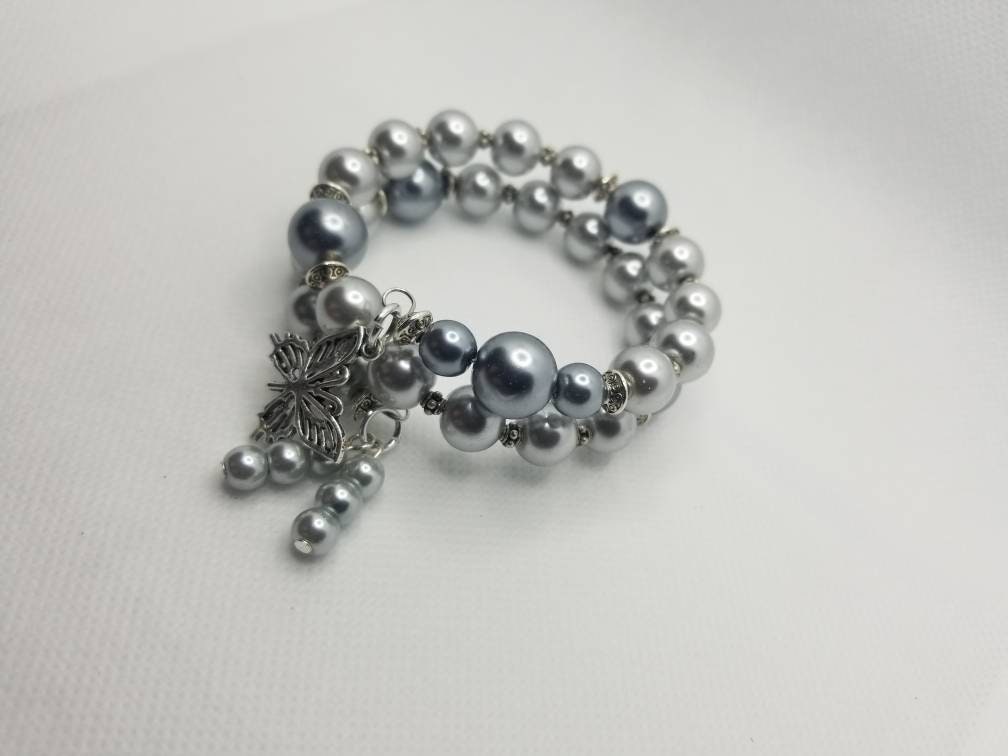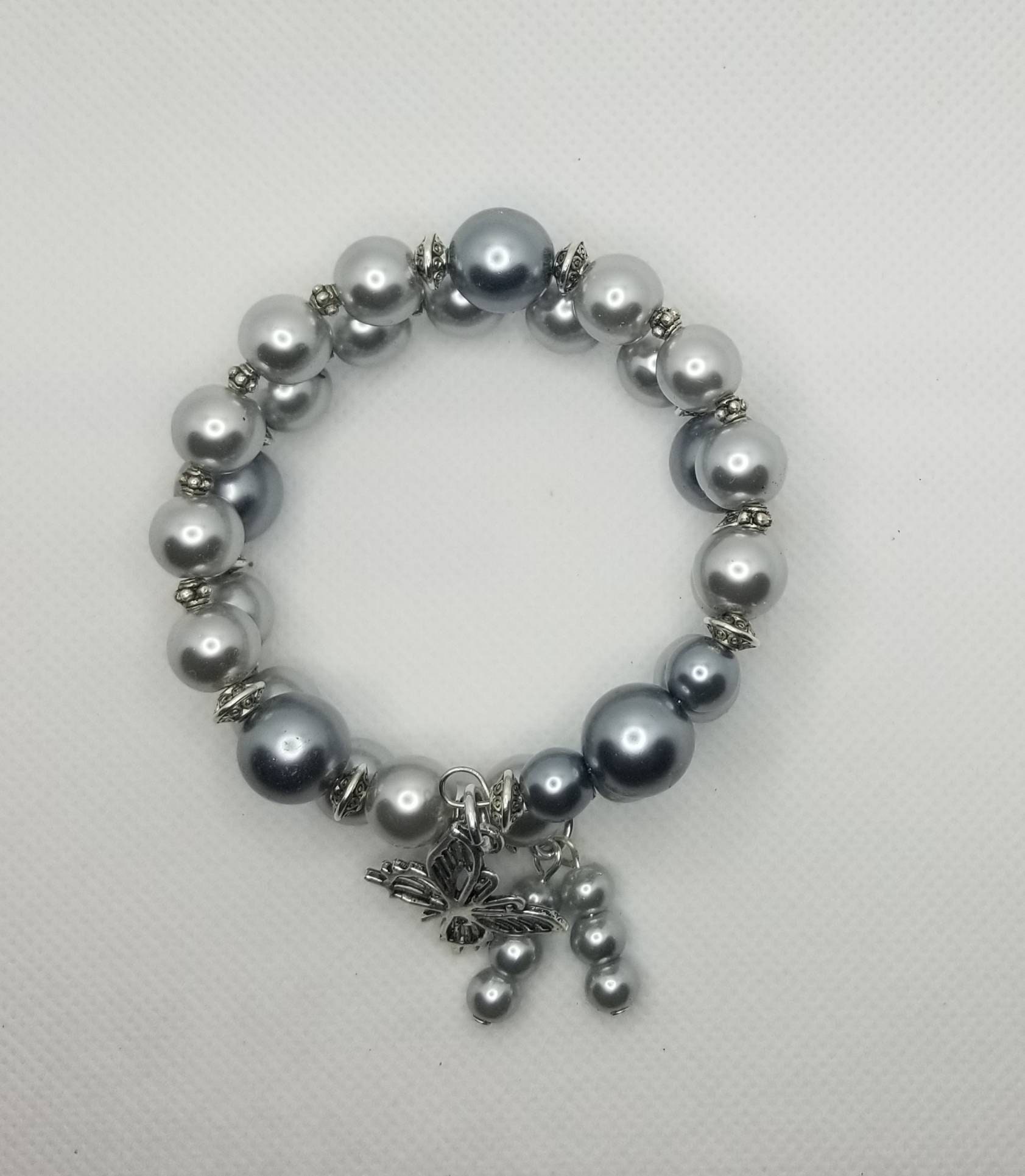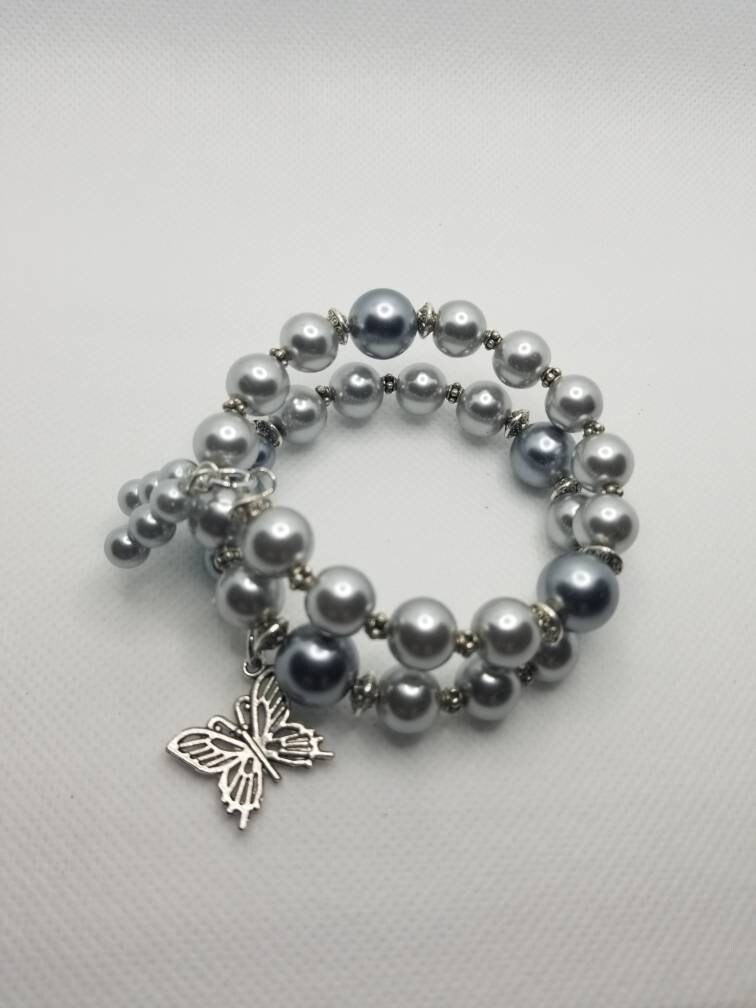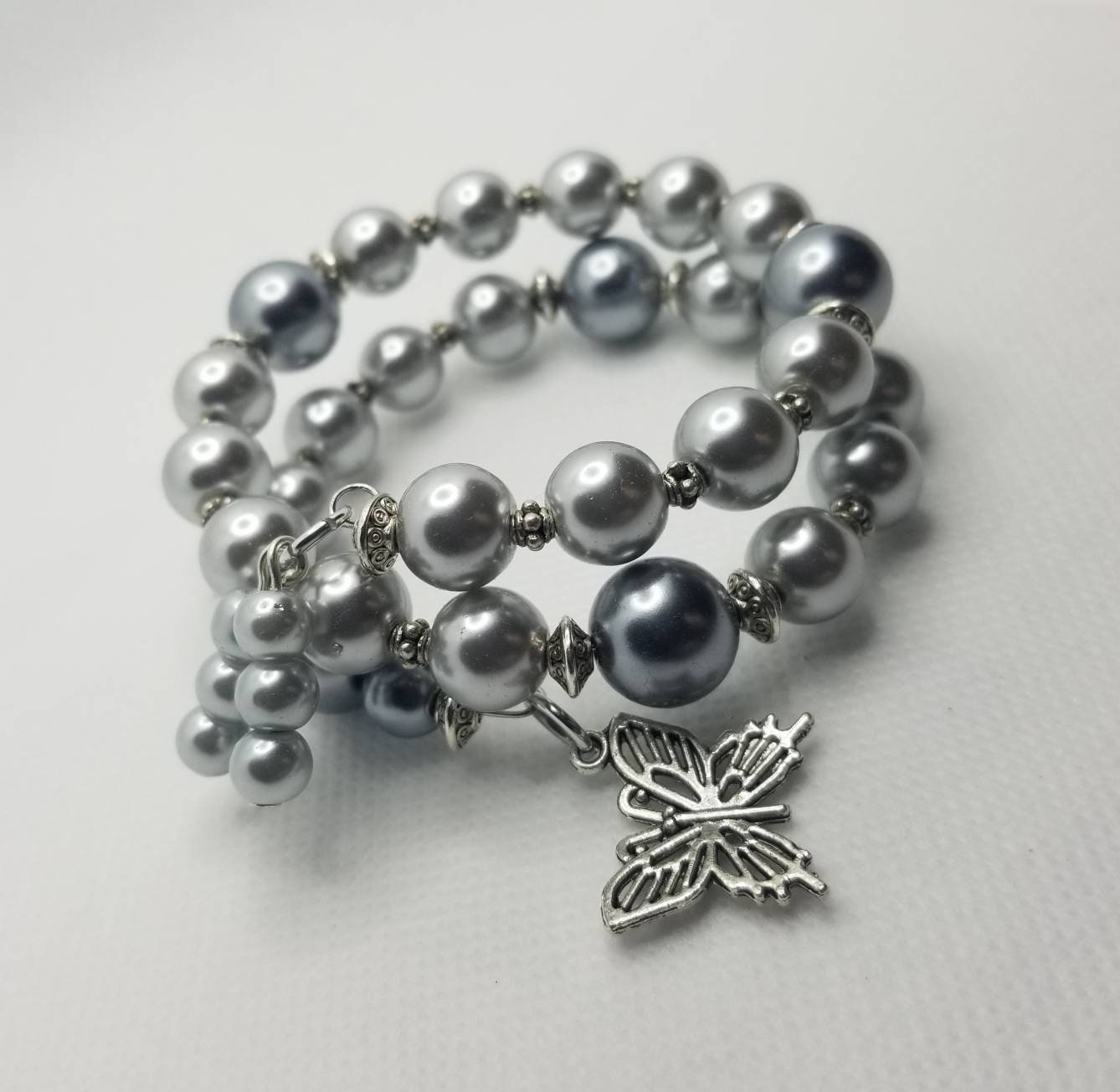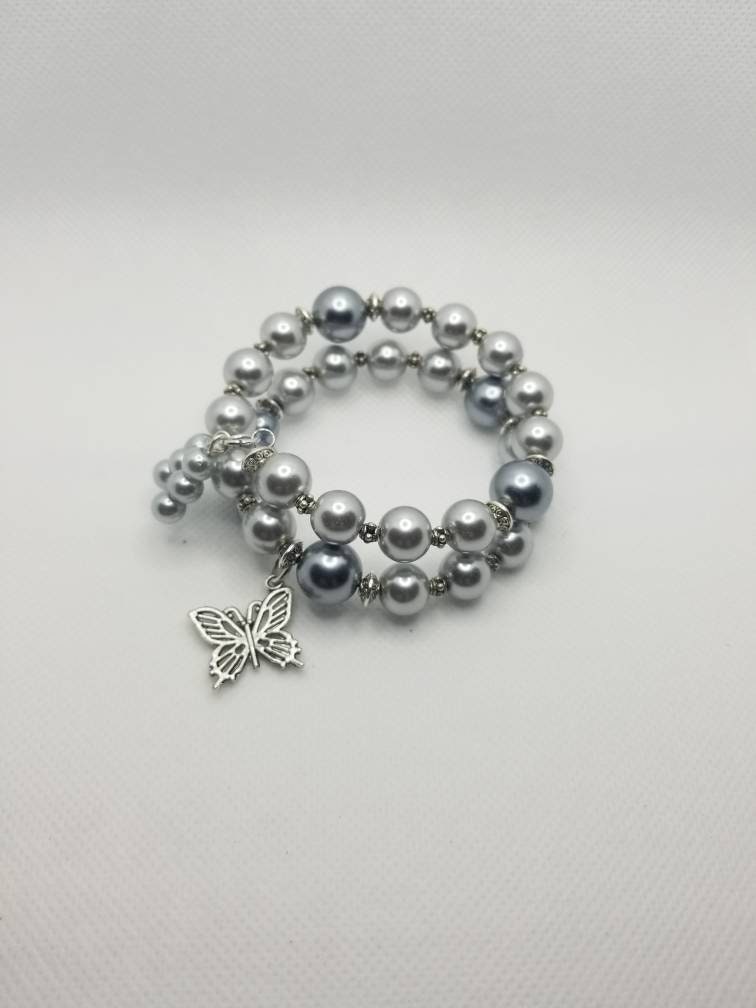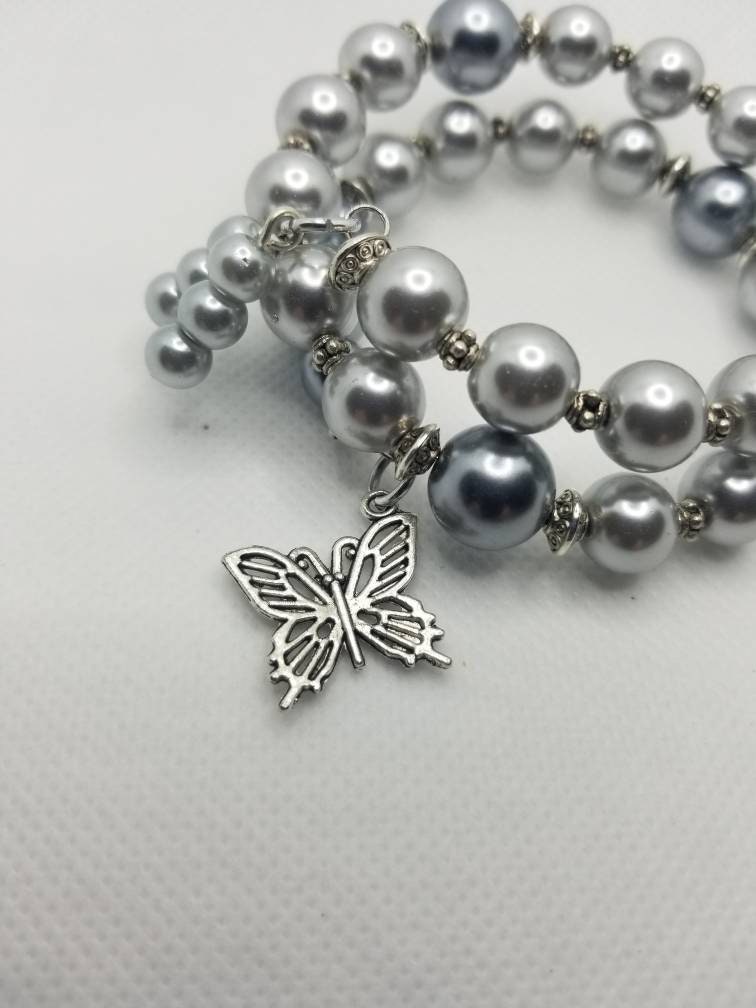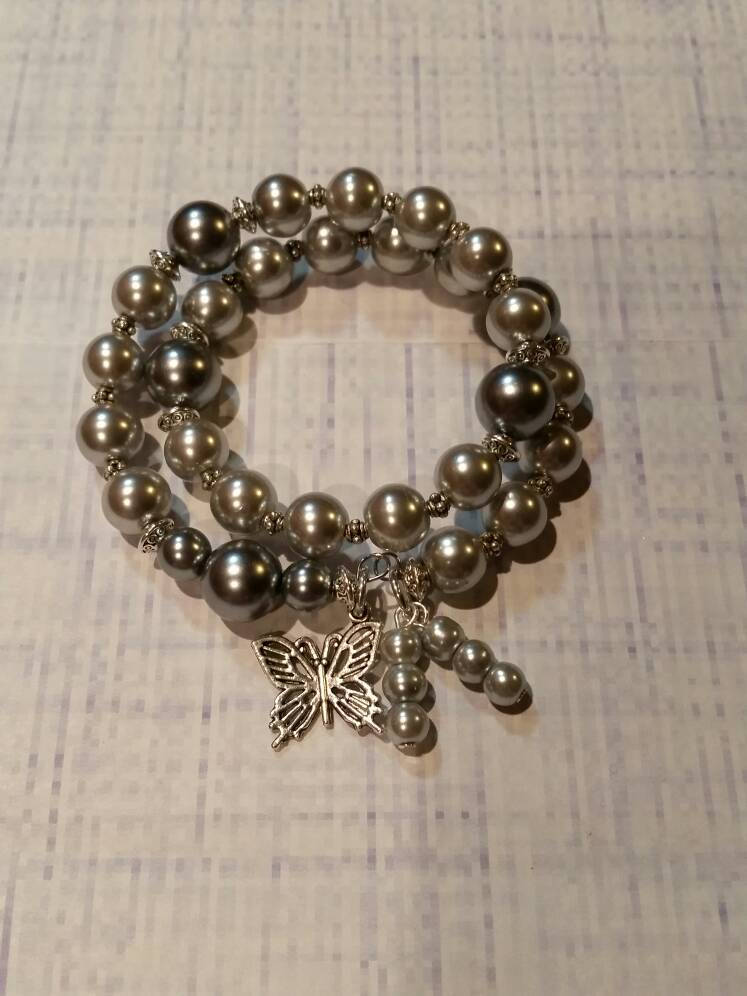 This memory wire wrap bracelet is also a functional set of Unitarian Universalist prayer beads.

After searching the internet, I finally found a UU site that had info and pictures of the prayer beads some of their members use.

This bracelet is made with silver-toned metal memory wire.
Memory wire is a type of spring steel that can be manipulated and will spring back into the original shape.

The beads are strung onto the memory wire in the same pattern as the standard prayer beads.

There are 23 smaller beads, divided into three groups of five and two groups of four.

These are separated by four larger beads, and one large bead called the head bead.

This set of prayer beads has 10mm silver gray glass pearls as the smaller beads.

The large beads are 12mm charcoal gray glass pearls.

The head bead is actually made with three of the charcoal gray glass pearls. There are 2 8mm and 1 12mm.

There is a silver-toned butterfly charm on the head bead end and two silver gray glass pearl dangles on the other end.

There are 4mm silver-toned round spacer beads, as well as saucer-shaped metal beads.

This bracelet is 2 loops long.

Your prayer beads will come with a complimentary small organza bag for safe storage.
-------------------------------------------------------------------------------------------

Below you will find an article from a UU website that explains what the different beads mean, and how to pray with the UU prayer beads.

A UNITARIAN UNIVERSALIST PRAYER BEAD PRACTICE

What follows is not intended to dictate how to pray, but rather is a suggested structure onto which you can hang your own developing prayer practice. It draws upon the prayer practices of a number of religious traditions and seeks to put together a pattern of prayer that you can tailor to your own needs and understandings. This practice uses the image of a journey, one form of prayer moving into the next.

Preparation: The first, largest bead provides a way into this prayer journey. While touching it, you might gently breathe in and out a few times, sing a favorite hymn, or recite a passage of scripture that centers you and creates a space within for the prayer that is to follow.

Entering In: With the four small beads at the beginning of the prayer circle, you enter into this "journey" of prayer. With each bead, you might recite the verses of a Buddhist gatha, such as:

Breathing in, I relax body and mind.

Breathing out, I smile.

Dwelling in the present moment,

I realize this is the only moment.

You might call on the spirits of Earth, Air, Fire, and Water. Or you can create your own entering prayer. I say:

Open my eyes, that I might see your face in everyone I encounter this day, myself included.

Open my ears, that I might hear your voice in whatever forms it takes.

Open my hands, that I might freely give whatever is mine to share.

Open my heart, that I might live and love more fully in you.

Take the time here to be fully intentional about this time.

Naming: The first medium-size bead is for naming the sacred and the holy as you encounter it. In traditional prayer terminology, this is praise and thanksgiving. You can think of it as naming the places in your life where miracles abound, a chance to "count your blessings," or a way of beginning your prayer centered in the awareness of the ways in which the holy is happening in your life.

The Small Beads: The three sets of five small beads between the medium-size beads are for "breath prayer." Many of the world's religious traditions encourage a short, repetitive prayer tied to the breath. You say one line on the in-breath and a second on the out-breath. You can use two lines from tradition or scripture—the classic from the Christian tradition is "Jesus Christ / have mercy on me"—or you can create your own. Once you settle on a two-part phrase, keep saying the same thing. Part of the power of a breath prayer is its repetition. Live with it long enough for it to become a part of you.

Knowing: The second medium-size bead is for giving voice to the broken, wounded, worried places in your soul. (Traditionally, this is called a prayer of confession.) It is the chance to take a "fearless moral inventory" and to give voice to what lurks in the shadow. Prayer calls on us to be authentic, whole people, and knowing where we are weak and wounded is essential.

Listening: The third medium-size bead is for listening to "the voice of quiet stillness" within. This is a chance to sit in the Mystery, gently breathing. (Depending on the tradition, this is called meditation or contemplation.) Far too often, people think of prayer as "talking to the sacred," forgetting that in any good conversation we must make room to listen as well as speak.

Loving: If your prayer journey is just for your own sake, then it is ultimately hollow. The fourth and last medium-size bead provides a place to bring the concerns of others—family, friends, communities, the world—into your prayer. These prayers of intercession, as they are traditionally called, are a chance to encourage your prayer to move outward. Call to mind people and situations you know who are in need, or sit quietly and see who (or what) comes to mind.

Closing: Whatever you said to enter into your prayer time, repeat with the four beads at the end of the circle.

Putting It All Together: You can take the journey of this prayer practice all at one time (expect to spend at least 30 minutes), or you can spread it out during the day (for example, Naming after breakfast, Knowing at lunch, Listening before dinner, and Loving before bed). Some people carry their beads with them everywhere, like "worry beads," and find that simply touching them—while in line at the bank, or when waiting for a friend—brings them into a prayerful place.

This practice is expanded—and a Unitarian Universalist perspective on prayer is more fully explored—in Erik Walker Wikstrom's Simply Pray: A Modern Spiritual Practice to Deepen Your Life Books, 2005).
Shipping from United States
Processing time
3-5 business days
Customs and import taxes
Buyers are responsible for any customs and import taxes that may apply. I'm not responsible for delays due to customs.
Returns & Exchanges
I gladly accept returns, exchanges, and cancellations
Just contact me within: 14 days of delivery
Ship items back to me within: 30 days of delivery
Request a cancellation within: 0 hours of purchase
But please contact me if you have any problems with your order.
The following items can't be returned or exchanged
Because of the nature of these items, unless they arrive damaged or defective, I can't accept returns for:
Custom or personalized orders
Items on sale
Conditions of return
Buyers are responsible for return shipping costs. If the item is not returned in its original condition, the buyer is responsible for any loss in value.
Questions about your order?
Please contact me if you have any problems with your order.
Frequently Asked Questions
Custom and personalized orders
Custom orders are welcome.
If I have the materials available, I'll be glad to make whatever you'd like.
Usually, there is no charge for changes to an existing item, unless I have to special order something.
Tell me about the prayer beads, malas, and rosaries.
Well, a friend asked if I could make him some rosaries. I tried, and discovered I really enjoyed making them.

After I made a few rosaries, I started researching other types of prayer beads, rosaries, and malas.
There are several types in the shop now, and more will be added.

Please be assured that whichever type of prayer beads I am working on, I make them all with great care and reverence.
Whatever your religion or belief system, I will always be respectful.
What's the difference in all the types of Jade that I see for sale?
It can be a bit confusing! lol

Jade, real Jade, comes in two forms:
Jadeite and Nephrite.
Jadeite is the most desired form of the two.
Both come in many colors. The main difference is the crystalline structure that makes up the stone.

Malaysian, or Malay Jade, is the industry name for expertly dyed, translucent Quartz. It often passes for quality Jade.

Mashan, aka Mountain Jade or Candy Jade, is the industry name for expertly dyed, white Dolemite Marble. It is sought after for its vibrant colors.

The Jade I use is all Malay Jade. (To the best of my knowledge).
Do you do custom orders or will you make substitutions?
Yes.

Any item made with glass pearls can now be made with Czech faceted glass or Malay Jade if I have the right colors.
Any item can be made with different color beads or metal types.
There may be a slight charge for substitution.
I have eye pins and other findings, rosary parts, and some charms in silver, gold, or gunmetal tone, bronze, and copper.
I do have some stainless steel bangles, findings, and charms.
.925 findings are also available. Inquire for info.
I can change any cross, crucifix, rosary center, charm, etc. to your preference.
I can do any name, phrase, or quote in Morse Code jewelry. (I won't promote hate speech).
In addition to glass pearls, Czech glass, and Malay Jade, I have gemstones, glass, acrylic, and metal beads.
What is Morse Code jewelry?
Well, Morse Code is a character code represented by dots and dashes, originally used to send messages by telegraph, later by flashes of light or by radio. It uses dots and dashes to represent letters and numbers.
Morse code jewelry is jewelry made with words or phrases using beads. I use two colors. One for the dots (.) and another for the (-). Most of my jewelry is made on eye pins using pearls or other beads, and the eye pins are connected much like rosary chain. Each letter, for instance, A, (.-), would have its own eye pin. I like the concept because I can spell out anything...Grandchildren's names, movie quotes, or more subversive messages, and no one will know what they say! Well, I'll know. lol
More Morse Code info
I like being able to wear my Grandchildren's names without worrying about giving away too much knowledge to people that don't need to know.
Or wearing my feelings about a controversial topic or person. I can wear my jeweley to the mall or grocery store, or to a family reunion, and no one knows what it says. Bwahaha. No heart attacks, arguments, or shocking Grandma.
YES, I do custom orders. Your names or phrases, your color choices, etc. Price is based on the number of pearls, spacers, etc. that I use.
I have many items already made and ready to ship.
Do you have any info on pendulums or gemstones?
Here are a few links to get you started:

http://www.crystalinks.com/pendulum.html
http://healing.about.com/cs/tools/ht/How_pendulums.htm
http://peopleof.oureverydaylife.com/cleanse-charge-pendulum-6505.html
http://www.holisticshop.co.uk/articles/guide-pendulum-dowsing
http://hubpages.com/religion-philosophy/PENDULUMS-How-To-Make-Choose-Cleanse-Program-and-USE-a-Pendulum
https://www.healingcrystals.com/How_to_Clear_Clean_Crystals_Articles_9239.html
Do you have more info on gemstones or Pendulums?
http://www.judyhall.co.uk
http://loveandlighthealingschool.com/pendulum-dowsing-for-beginners-some-helpful-tips-for-successful-dowsing-by-kelly-small/
*For more information on heated, treated and man-made crystals, see this article:
https://www.healingcrystals.com/article_info.php?articles_id=11914&
When are the Sabbat dates for 2020? Full moon dates?
This is a good place to start for info on Paganism, as well as the Wheel of the Year, and dates for Sabbats in both Hemispheres. You may have to copy and paste the link.
https://www.learnreligions.com/pagan-wiccan-calendar-4110202