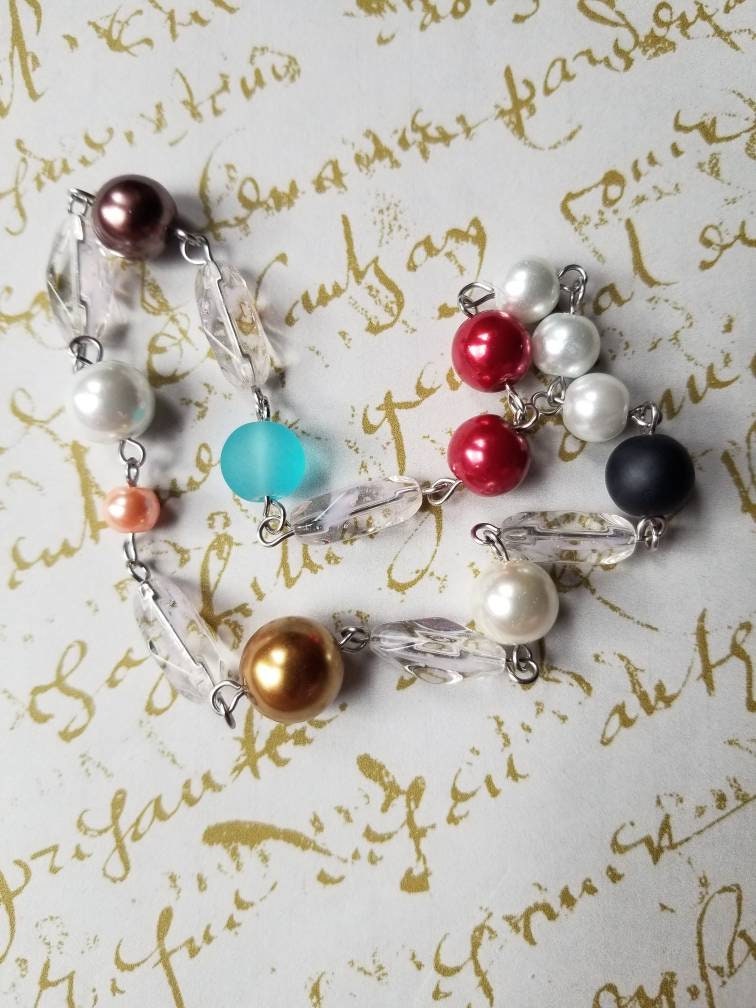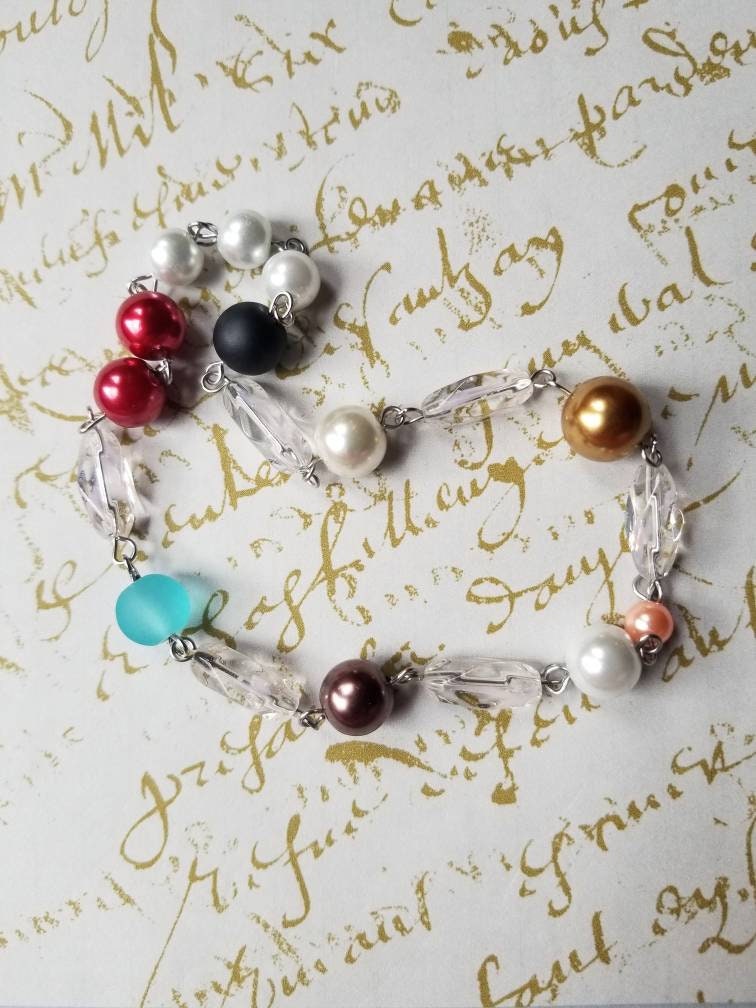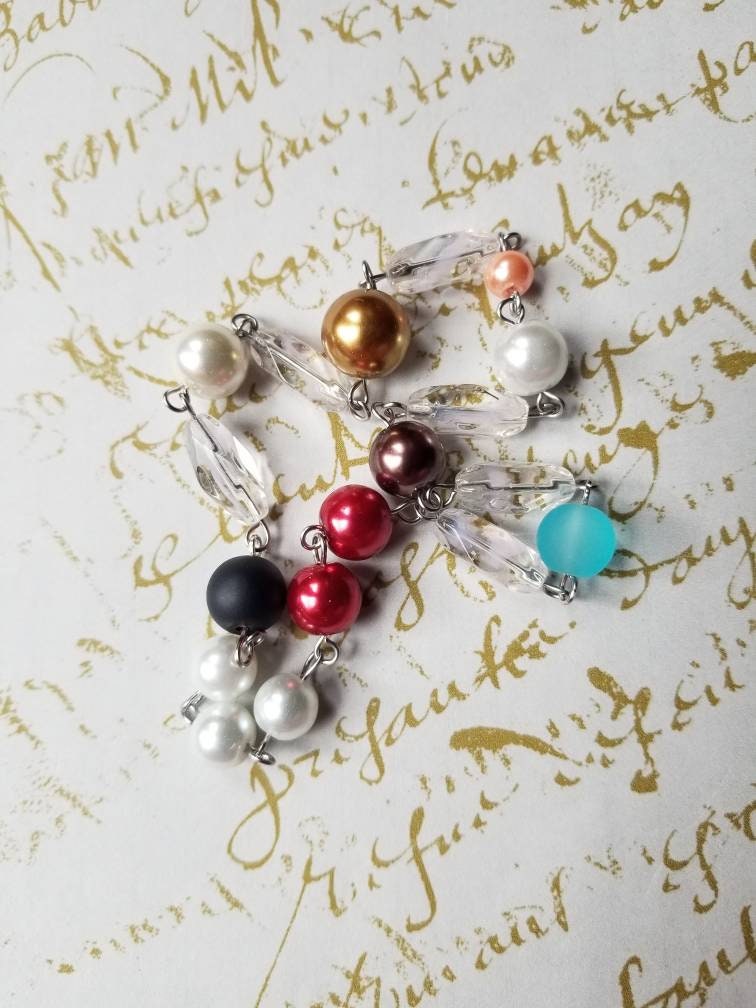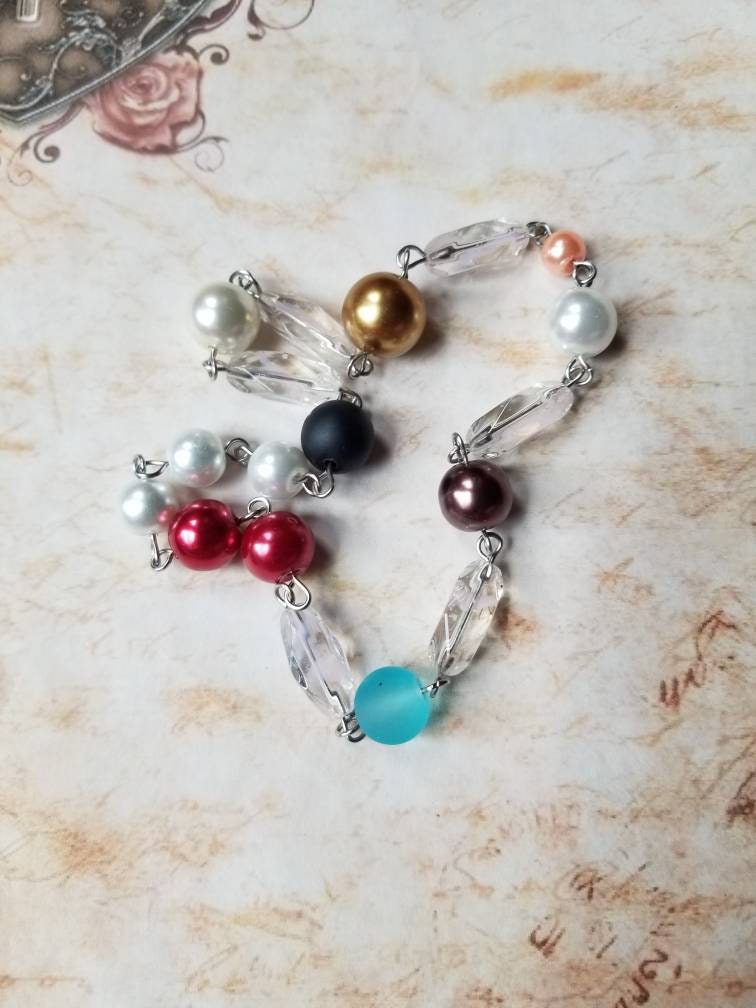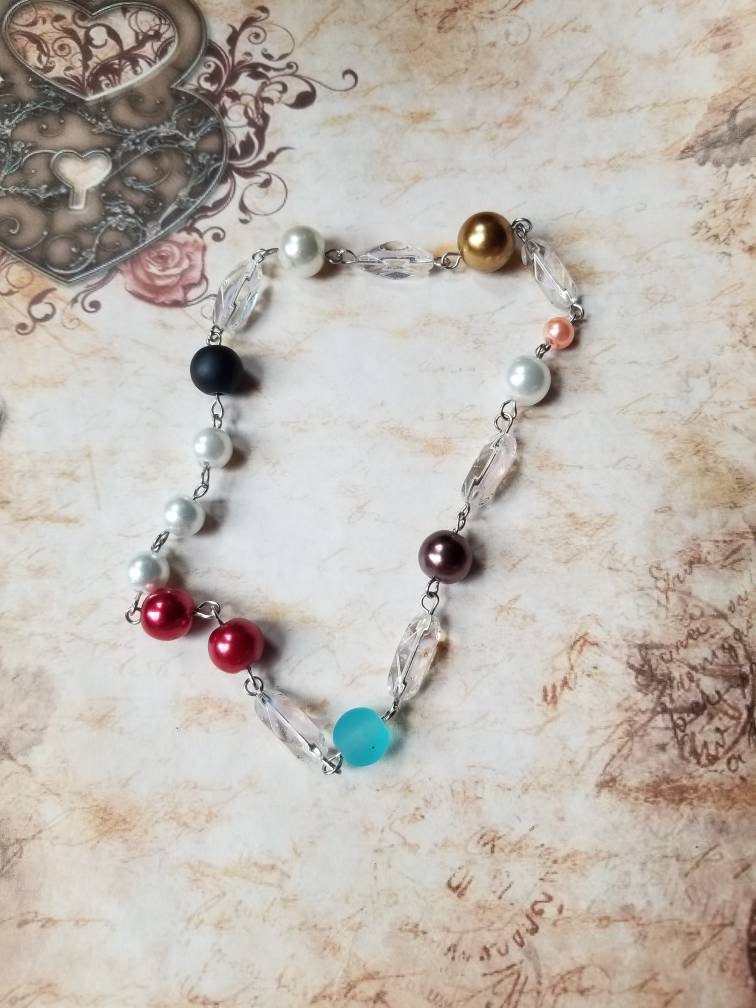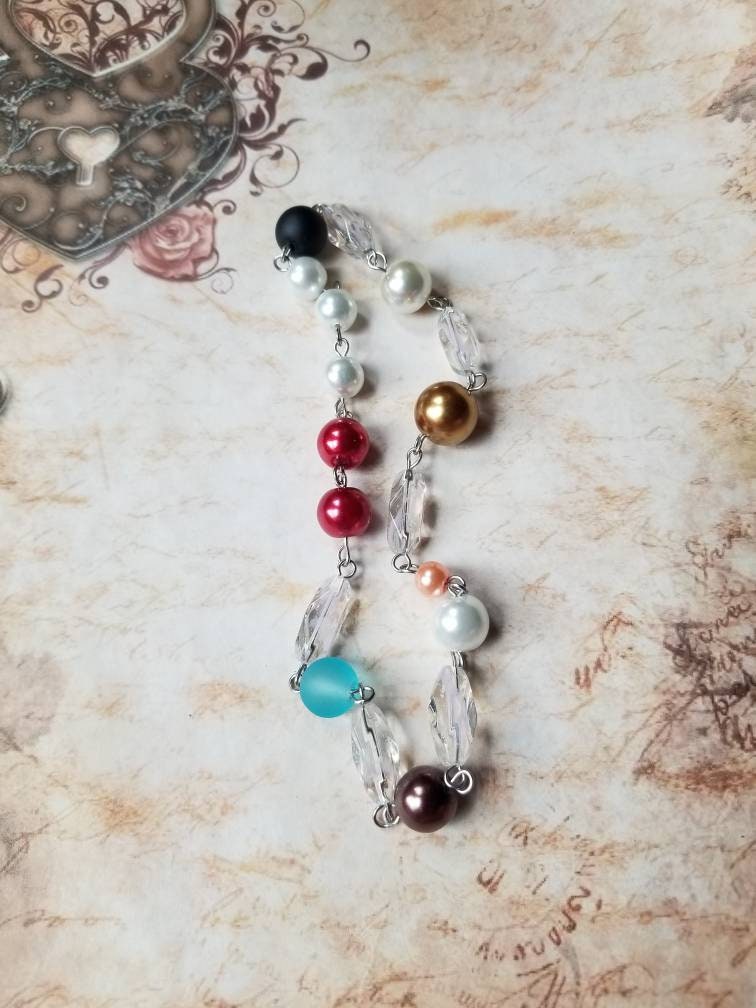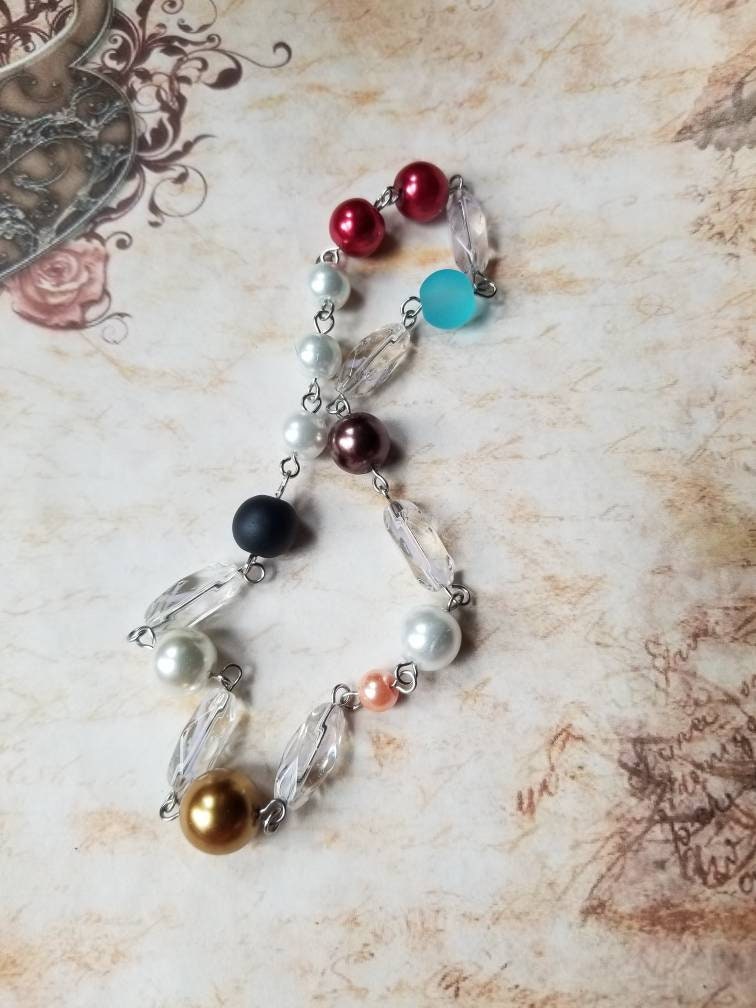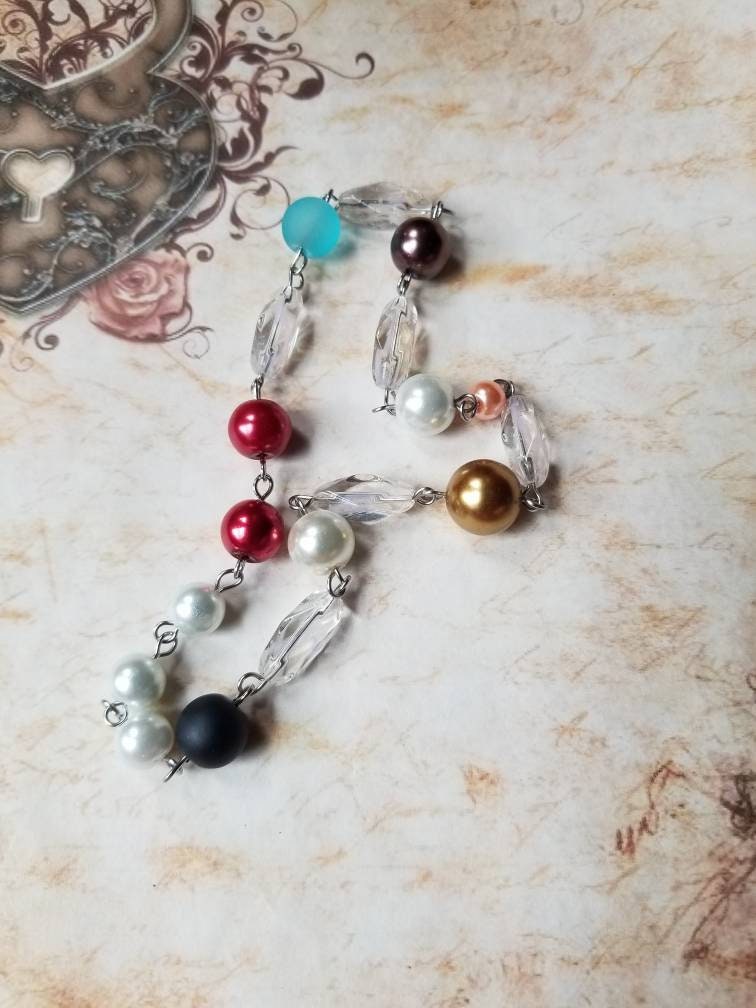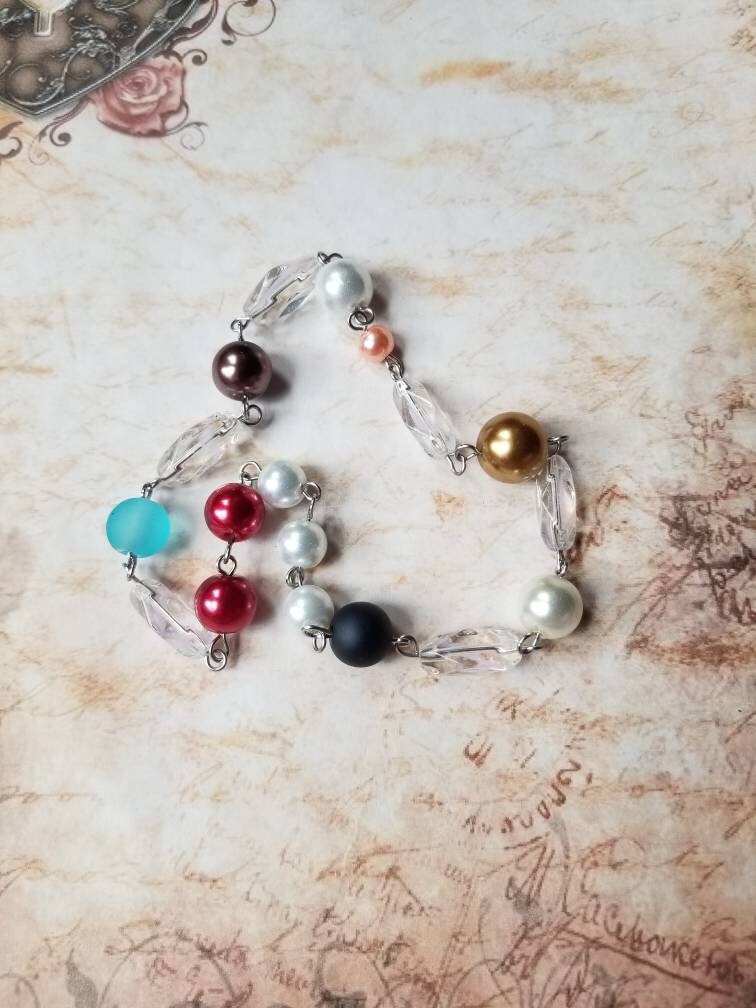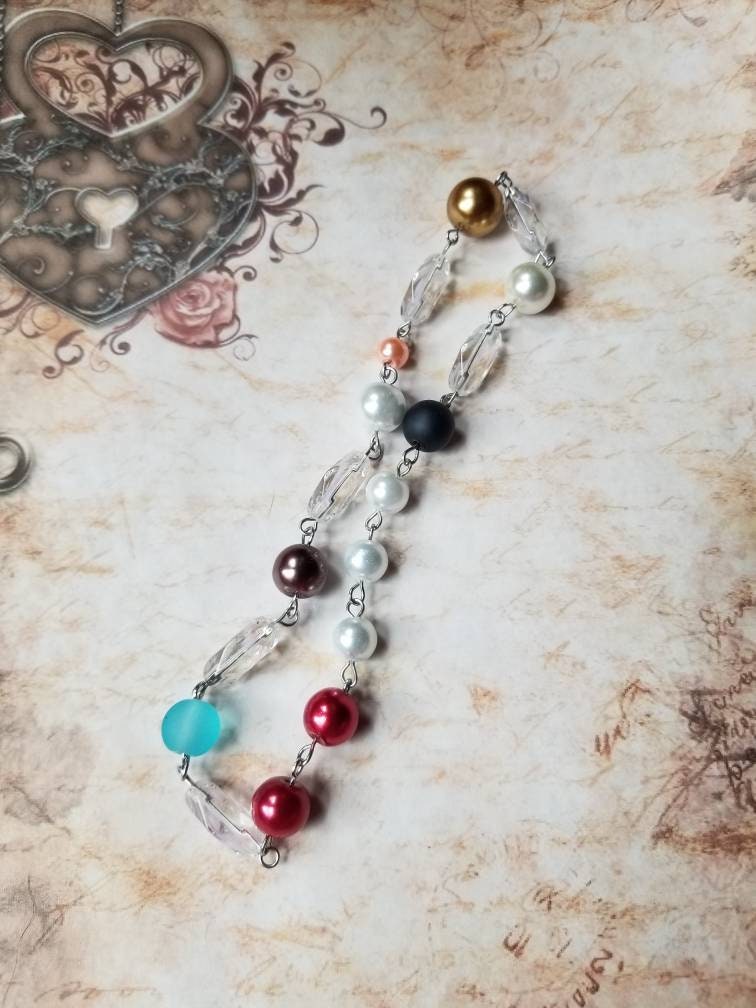 These Lutheran prayer beads are called Pearls of Christ or Wreath of Christ.

They are composed of 18 beads placed in a certain order to create a unique set of Lutheran prayer beads.

These beads are hand-wired using silver-toned stainless steel metal eye pins.

The Wreath of Christ (Swedish: Frälsarkransen, Danish and Norwegian: Kristuskransen), also known as the Pearls of Life are a set of prayer beads developed in 1995 by Swedish Evangelical Lutheran bishop emeritus Martin Lönnebo. They are an often used devotion in the Lutheran Church.
Bishop Lönnebo was stranded on an island in Greece for several days because of a storm. When he saw the Greek fishermen with their kombologia (which are in fact worry beads that have no religious or spiritual function), he was inspired to create the Wreath of Christ. He first developed, on paper, a set of prayer beads where he gave all the pearls a specific meaning. After the return home to Sweden, he made the actual pearl ribbon, based on his sketches and started using it in his prayers. The devotion began to spread rapidly in Sweden and to other Lutheran countries.
The Wreath of Christ is a kind of simplified non-denominational rosary, with each of the 18 pearls carrying a specific meaning, a question of life, a thought, or a prayer. There are no prayer formulations, as a user may meditate or say a prayer on each bead.

The order starts at the golden "God" bead and goes counter-clockwise. In this order, the pearls symbolize the course of life and also represent a catechism.

The bead of God
The bead of Silence
The I bead
The bead of Baptism
The bead of Silence
The Desert bead
The bead of Silence
The Carefree bead
The bead of Silence
Two beads of Love
Three beads of Secret
The bead of Darkness
The bead of Silence
The bead of Resurrection
The bead of Silence

This set has the following make-up:

The God bead is a 12mm golden glass pearl bead.

The six Silent or Silence beads are long swirly clear glass beads.

The White Resurrection bead is a 10mm glass pearl.

The Black Darkness bead is a 10mm black matte glass pearl.

Three Secret white beads are 8mm glass pearl beads.

NOTE...I have seen these prayer beads made with both white and green beads.

Two red Love beads are 10mm red glass pearls.

The Carefree Blue bead is a 10mm blue frosted recycled cultured sea glass bead.

The brown Desert bead is a 10mm glass pearl bead.

The white Baptism bead is a 10mm white glass pearl.

The small I bead is a 6mm peach glass pearl.

These prayer beads can be made in a loop or as a straight set of beads with a cross or crucifix on one end.

There are several different variations I have seen for examples of prayers you can do with these prayer beads.

How to pray:

Take the Wreath of Christ in your hands. Think, say, feel, have the courage to believe: I am here, God is present, it is totally quiet.

Take the golden God bead between your fingers and say the prayer that belongs with it. Move on to the first colorless Silence bead. Say the prayer associated with it.

Then you may either go through all the beads or select the beads that you at that moment feel important. Finish your prayer with Aaron´s blessing at the last Silence bead and Lord´s prayer at the God bead.

You can also say Lord's prayer using the round beads on the string and Aaron's blessing using the six beads of silence. "The Wreath of Christ", Pearls of Life make no demands - it is there for you when you need it.

http://www.rukoushelmet.net/English2.htm This page has a photo of the Wreath of Christ with prayers. Each bead is clickable and has info as well as a suggested prayer.

http://www.rukoushelmet.net/ourfather.htm This page has how to use the beads to say the Lord's prayer.

http://www.rukoushelmet.net/Blessing.htm This page has how to use the beads to say Aaron's Blessing.

Info was taken from Wikipedia and http://www.rukoushelmet.net/English.htm

All prayer beads will come in a small organza bag for safe storage.

NOTE: If the links given are not clickable, copy and paste the URL into your browser window.
Shipping from United States
Processing time
3-5 business days
Customs and import taxes
Buyers are responsible for any customs and import taxes that may apply. I'm not responsible for delays due to customs.
Returns & Exchanges
I gladly accept returns, exchanges, and cancellations
Just contact me within: 14 days of delivery
Ship items back to me within: 30 days of delivery
Request a cancellation within: 0 hours of purchase
But please contact me if you have any problems with your order.
The following items can't be returned or exchanged
Because of the nature of these items, unless they arrive damaged or defective, I can't accept returns for:
Custom or personalized orders
Items on sale
Conditions of return
Buyers are responsible for return shipping costs. If the item is not returned in its original condition, the buyer is responsible for any loss in value.
Questions about your order?
Please contact me if you have any problems with your order.
Frequently Asked Questions
Custom and personalized orders
Custom orders are welcome.
If I have the materials available, I'll be glad to make whatever you'd like.
Usually, there is no charge for changes to an existing item, unless I have to special order something.
Tell me about the prayer beads, malas, and rosaries.
Well, a friend asked if I could make him some rosaries. I tried, and discovered I really enjoyed making them.

After I made a few rosaries, I started researching other types of prayer beads, rosaries, and malas.
There are several types in the shop now, and more will be added.

Please be assured that whichever type of prayer beads I am working on, I make them all with great care and reverence.
Whatever your religion or belief system, I will always be respectful.
What's the difference in all the types of Jade that I see for sale?
It can be a bit confusing! lol

Jade, real Jade, comes in two forms:
Jadeite and Nephrite.
Jadeite is the most desired form of the two.
Both come in many colors. The main difference is the crystalline structure that makes up the stone.

Malaysian, or Malay Jade, is the industry name for expertly dyed, translucent Quartz. It often passes for quality Jade.

Mashan, aka Mountain Jade or Candy Jade, is the industry name for expertly dyed, white Dolemite Marble. It is sought after for its vibrant colors.

The Jade I use is all Malay Jade. (To the best of my knowledge).
Do you do custom orders or will you make substitutions?
Yes.

Any item made with glass pearls can now be made with Czech faceted glass or Malay Jade if I have the right colors.
Any item can be made with different color beads or metal types.
There may be a slight charge for substitution.
I have eye pins and other findings, rosary parts, and some charms in silver, gold, or gunmetal tone, bronze, and copper.
I do have some stainless steel bangles, findings, and charms.
.925 findings are also available. Inquire for info.
I can change any cross, crucifix, rosary center, charm, etc. to your preference.
I can do any name, phrase, or quote in Morse Code jewelry. (I won't promote hate speech).
In addition to glass pearls, Czech glass, and Malay Jade, I have gemstones, glass, acrylic, and metal beads.
What is Morse Code jewelry?
Well, Morse Code is a character code represented by dots and dashes, originally used to send messages by telegraph, later by flashes of light or by radio. It uses dots and dashes to represent letters and numbers.
Morse code jewelry is jewelry made with words or phrases using beads. I use two colors. One for the dots (.) and another for the (-). Most of my jewelry is made on eye pins using pearls or other beads, and the eye pins are connected much like rosary chain. Each letter, for instance, A, (.-), would have its own eye pin. I like the concept because I can spell out anything...Grandchildren's names, movie quotes, or more subversive messages, and no one will know what they say! Well, I'll know. lol
More Morse Code info
I like being able to wear my Grandchildren's names without worrying about giving away too much knowledge to people that don't need to know.
Or wearing my feelings about a controversial topic or person. I can wear my jeweley to the mall or grocery store, or to a family reunion, and no one knows what it says. Bwahaha. No heart attacks, arguments, or shocking Grandma.
YES, I do custom orders. Your names or phrases, your color choices, etc. Price is based on the number of pearls, spacers, etc. that I use.
I have many items already made and ready to ship.
Do you have any info on pendulums or gemstones?
Here are a few links to get you started:

http://www.crystalinks.com/pendulum.html
http://healing.about.com/cs/tools/ht/How_pendulums.htm
http://peopleof.oureverydaylife.com/cleanse-charge-pendulum-6505.html
http://www.holisticshop.co.uk/articles/guide-pendulum-dowsing
http://hubpages.com/religion-philosophy/PENDULUMS-How-To-Make-Choose-Cleanse-Program-and-USE-a-Pendulum
https://www.healingcrystals.com/How_to_Clear_Clean_Crystals_Articles_9239.html
Do you have more info on gemstones or Pendulums?
http://www.judyhall.co.uk
http://loveandlighthealingschool.com/pendulum-dowsing-for-beginners-some-helpful-tips-for-successful-dowsing-by-kelly-small/
*For more information on heated, treated and man-made crystals, see this article:
https://www.healingcrystals.com/article_info.php?articles_id=11914&
When are the Sabbat dates for 2020? Full moon dates?
This is a good place to start for info on Paganism, as well as the Wheel of the Year, and dates for Sabbats in both Hemispheres. You may have to copy and paste the link.
https://www.learnreligions.com/pagan-wiccan-calendar-4110202